Join us for a casual conversation ...
About medical device security threats, solutions, and building an effective security program on Tuesday, May 29 with "The Doctor on a Quest to Save our Medical Devices from Hackers" and expert practitioner of medical device security programs. We promise, no PowerPoint presentation, but you will leave having more insight into:
How to Build an Effective Security Program
HIPAA/Meaningful Use Risk Analysis
Medical Device Security Practices
And What's Hot & What's Not
Featured Guests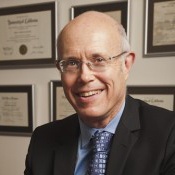 Dr. David Charles Klonhoff
M.D., FACP, FRCP (Edmin), Fellow AIMBE, and Medical Director of the Diabetes Research Institute at Mills-Peninsula Medical Center
Klonhoff was featured in Wired Magazine, as "The Doctor on a Quest to Save our Medical Devices from Hackers" and is actively involved in medical device security initiatives with the FDA and the Diabetes Technology Society. View his CV
Tim West
Managing Partner of Risiko Services LLC

Tim has worked as an information security executive, a security practitioner, and as a successful security consultant. As a consultant, Tim delivers large-scale projects rebooting security programs in multibillion-dollar organizations and engaging in high-profile projects, including high profile US Health & Human Services Office for Civil Rights Corrective Action Plans. His recent work is with US News & World Reports Top 10 Hospitals in building medical device security programs. As a practitioner and leader, Tim led multiple security teams at a Fortune 25 healthcare organization responsible for Threat & Vulnerability Management and Governance, Risk, and Compliance. Tim has spoken nationally on topics of compliance and technical security, medical devices, and other research topics including cyber security insurance practices.
---
CHOOSE WHAT WORKS BEST FOR YOU >>>
Coffee & Conversation
Date: Tuesday, May 29
Time: 8:30 - 10 AM
Location: Pinnacle Business Systems, 3824 S. Blvd., Edmond, OK 73013
[Directions]
Cocktails & Conversation
Date: Tuesday, May 29
Time: 4:30 - 6 PM
Location: Bellini's Underground, 6305 Waterford Blvd #100, Oklahoma City, OK 73118
[Directions]
Please register to attend!